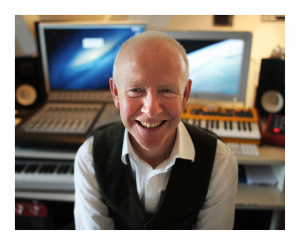 Paul grew up in Nottingham (UK) and following a degree in Applied Biology opted for a professional music career, initially within rock and pop bands. Discovered by Soft Cell's Dave Ball, his band, SENSE released several singles and an album in the 1980s.
In 1989 he made a successful move to writing music for television and film. Following scores for The Worst Witch, Noddy, Fimbles and Clay, Paul received an Ivor Novello award for his theme to the animated series, Bob the Builder.
Paul has also co-produced two innovative theatre productions: 'Frankenstein – The Creation' and the spectacular outdoor staging of 'Q – Live from a Quarry', based on the science-fiction classic, 'Quatermass and the Pit'.
In 2003 Paul commissioned the Royal Philharmonic Orchestra and Juliet Stevenson to perform his ambitious, The Snow Queen project. Recorded first as a CD it received its world premiere at the Barbican Hall in London.
In 2004 his production company, SQ Productions secured a BBC commission for a film version of The Snow Queen starring Juliet Stevenson and Patrick Stewart. Paul was co-executive producer.
Since 2006, SQ Productions has been developing a raft of projects including the sci-fi feature film project, Outside.
Paul also co-produced and arranged YES guitarist, Steve Howe's 2012 solo album, TIME and contributed piano to the Webster Wraight Ensemble's seminal jazz/deep house album, No Lucky Days.
2012-13 saw Paul scoring 52 episodes of the animation series, Toby's Travelling Circus.
In July 2014 Paul premiered a new work, Celestial at the Port Eliot Festival in Cornwall. It received its orchestral premiere at The House, Plymouth University in June 2016. Performances feature time-lapse projections by Cornish film-maker, Graham Gaunt and soundscapes by Chris Watson. A recording is planned.
Paul is also pursuing a songwriting project with lyricist, Paul James. Together they are James/Joyce.