I've just found this great review for the CELESTIAL concert last Saturday evening. Many thanks to my fellow contributors: Simon Ible, The Ten Tors Chamber Orchestra, Chris Watson, Graham Gaunt, Sarah Simmonds, Helen Porter, Billy Bottle, Will McNicol, Stuart Billinghurst, Simon James and Ewan Thomas. Thanks especially to Sarah Douglas-Pennant for kindly allowing the use of the poems of Johnnie Douglas-Pennant.
_______________________________________________________________________
http://artsculture.newsandmediarepublic.org
CLASSICAL JUNE 19, 2016 PHILIP BUTTALL
Memory: I'll Remember You at Plymouth University leaves a lasting impression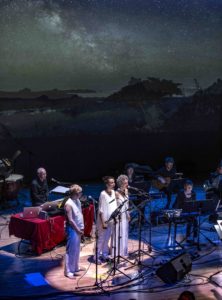 This unique happening involved three consecutive events, linked by the theme of memories – those of  loved ones now no longer here with us.
Celestial, a collage of songs, words, soundscapes and film by Paul K Joyce, was, of course, on a completely different musical plane – an exceedingly melodious and attractive score very much couched in the music-theatre genre, and which Ten Tors Chamber Orchestra, under Simon Ible's sympathetic direction, brought to life so vividly and with such polished precision. Here the telling contributions from vocalists Sarah Simmonds, Helen Porter and Billy Bottle did much to heighten the success of the performance even more.
______________________________________________________________________
I'm delighted by this first appraisal of the orchestral version of  CELESTIAL even though I would have liked the reviewer to have acknowledged that the project was inspired by and featured the childhood poems of Johnnie Douglas-Pennant. He wrote most of the poems I've set to music or read aloud when he was just seven years of age. I find his words inspirational.
This endorsement encourages me to continue pushing for both a studio recording and further 'live' performances. Watch this space!
PKJ